Ramada Eco Beach Resort, Broome
  AWARD WINNING BEACH RESORT
Ramada Eco Beach Resort is a multi award-winning eco resort set amongst the pristine and untouched Kimberley environment. Located 130km south of Broome our eco resort provides guests with an unforgettable and unique experience.
The exceptional accommodation at our eco resort includes 25 superbly appointed Eco Villas interlinked by over 1km of elevated wooden boardwalks, and 30 luxurious safari style Eco Tents. For larger groups we also offer The Beach Houses, striking ocean front accommodation with amazing views of the Indian Ocean.
Sign up to our newsletter below to hear about our latest specials!
Sleeps 4- Perfect for families & friends NEW 2 BED LUXURY ECO VILLAS 
Stay with family and friends and take advantage of our new 2 bed villas.  Presenting great value and flexibility share the Eco Beach experience with your nearest and dearest! These villas include living and dining area with a king size bed plus one master bedroom with en-suite bathroom. We recommend this configuration up for families or close friends. 
The living area leads onto a spacious outdoor veranda, perfect for relaxing under the stars, playing games with the kids or reminiscing about the catch of the day.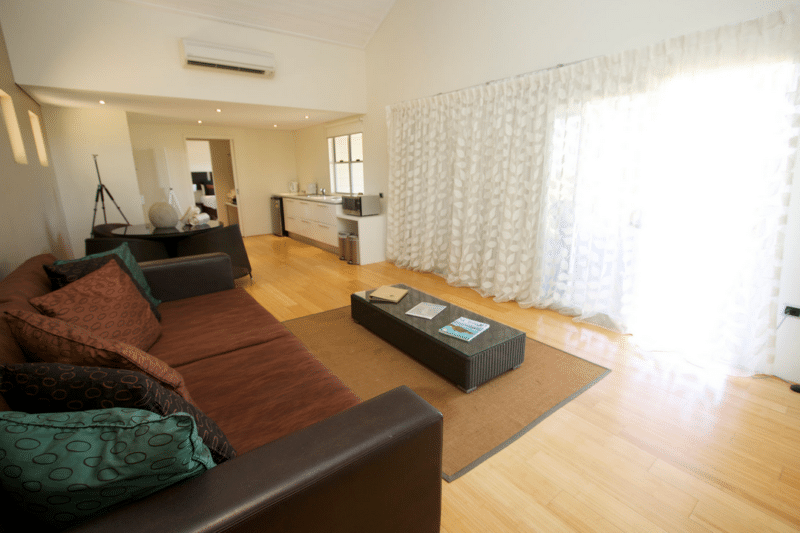 What can you do at Eco Beach?ECO BEACH ACTIVITES
March-April WET SEASON AT ECO BEACH
The 'wet season' in Broome is a great time, there are less crowds, the days can be hot and nights are balmy. Contrary to popular belief, the Broome rain does not fall constantly, but in heavy and generally short downpours with little (if any) rain before mid December. A typical Broome downpour might only last for half an hour or so and this usually occurs late in the afternoon and evenings.
The Broome build up creates the perfect environment for mind blowing lightning shows and spectacular sunsets with most of the annual rainfall received from January through to March. Birdlife and wildlife abound. This is a great time to sit back from the comfort of your accommodation and watch as Mother Nature reigns supreme and refreshes the Broome landscape.