RAMADA ECO BEACH RESORT
JACKS BAR & RESTAURANT
Occupying arguably the finest position of any restaurant in Western Australia, Jack's Bar & Restaurant provides the perfect setting for dining and relaxation whilst indulging in the stunning ocean views and mouth-watering cuisine.
In addition to our standard breakfast, lunch and dinner options, we also offer a range of special dining experiences which are available upon request such as:
Beach Dinner
Picnic Hampers
Private Dining
Jack's Bar stocks a wide selection of beers, wines, spirits and cocktails all priced very competitively. Jack's Bar also provides a take-out service for guests to purchase alcohol at reduced prices for consumption within the privacy of their villa or tent.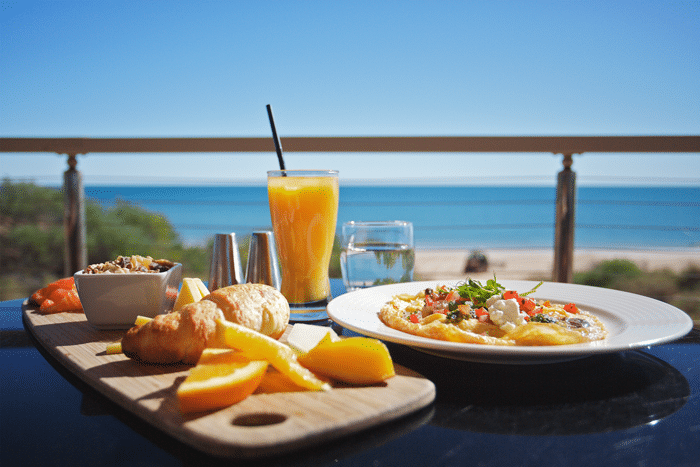 Chef Luke Sutherland  multi-award-winning chef
"Our multi-award-winning chef, Luke Sutherland is passionately devoted to the provenance of local produce and sharing our sustainability practices."
Referring to Eco Beach as his spiritual home, Luke's menu is an eclectic culinary journey celebrating Indigenous and Asian influences, highlighting native plants and herbs, whilst honouring his love of Tex-Mex chilli, grilled meats and classic Italian flavours.
Croc-tail with black salt and bush pepper, pearl-meat cerviche with red shizo, kangaroo fillet or Cone Bay barramundi are equally at home with 'barra' tacos, or burgers made with 24-hour tender-cooked brisket or Japanese fried chicken.
Aside from his culinary smarts, Luke's infectious personality and keen enthusiasm for pure, honest and uncomplicated flavours are his signature traits at Jack's Bar & Restaurant
Come and Taste One of the Chef's Specialities
Great chefs, great food, plenty of choice on the menu, creative and fresh. Highly recommend for people staying at Eco beach or making a day trip from Broome.. Billie12GoldCoast, Review from Tripadvisor.com
Opening Hours
Jacks Bar & Restaurant is open daily
between April-October.
Breakfast: 8am – 10am
Lunch: 12pm – 2pm
Dinner: 5:30pm – 7:30pm
Reservations
Join us for a meal or for a drink in Jacks Bar & Restaurant
Please note that bookings are essential for dinner service.
+61 8 9193 8015
reservations@ramadaecobeach.com
Ramada Eco  Beach Resort